PARENTS AND CARERS' NOTICEBOARD

Current News and Information: if you require any information please come into the main office and speak to our Receptionist who will be happy to help. Paper copies of letters, policies etc can be obtained in this way.
Calling all potential parents/ carers interested in joining our Reception intake in September 2019!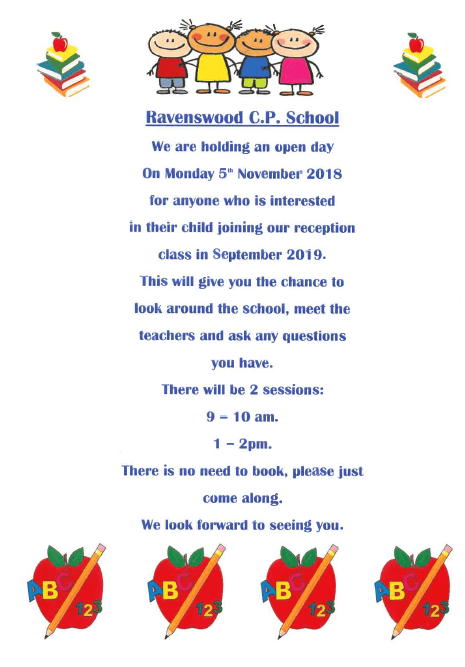 Calling all ten year olds! Continue on your child's renewed passion for football after the World Cup!
The England football team may not have got through to the World Cup final however the renewed passion for football some children have had following the World Cup can be channelled! Go to Landseer Park and see how far they will get in these tournaments! It is FREE to attend.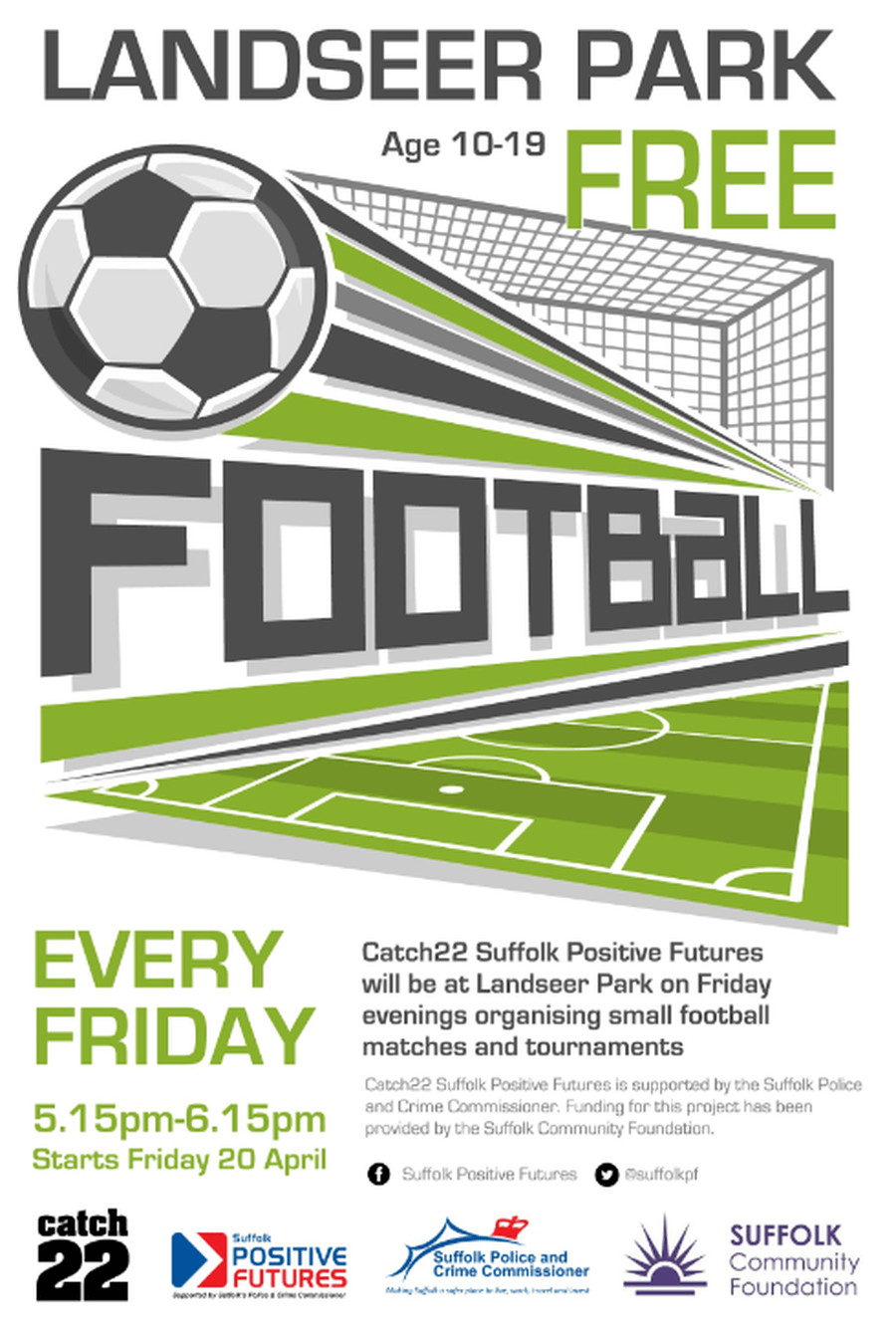 Is your child (aged ten +) interested in taking up boxing?
Take a look at the below poster, you can turn up at the session at Inspire Suffolk on the night, and each session is FREE!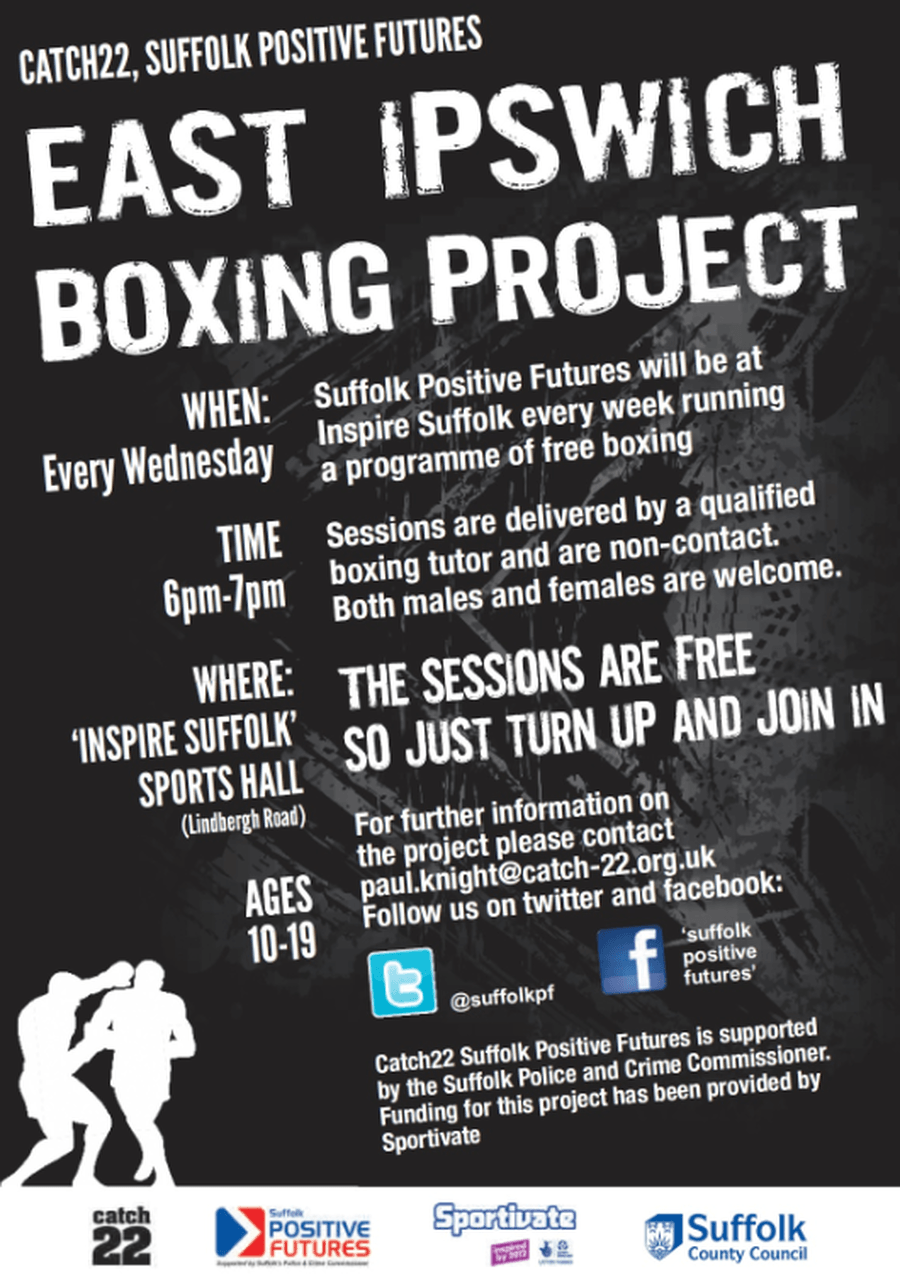 Free Family 6 week course on 'Strengthening a family's relationship'
If you are a family with children aged 8-12, that would like to join other families on a FREE 6 week course that helps you to build positive and rewarding relationships together, please click on the below link.
Free Parenting course 'Parentalk - The Primary Years'
Family First, a local charity, will be facilitating a 6 week course for parents/ carers of pre-school and primary age children, covering essential topics and offering a free DVD to all attending. Click on the below link for further details.
TRIPLE P Parenting Group
Triple P allows parents to choose techniques that work best for them and their families. Below there are links to individual seminars and courses that run over a period of weeks. We provide the information, but you choose the ideas to use and that will work! Please click on the links below;
Oct - Dec - Triple P - Castle Hill Community Centre
The below courses are specifically for parents/ carers with children with additional needs, either pending an assessment or whose child is already diagnosed.
Triple P - Stepping Stones - Willows Children Centre Oct - Dec 2018
FREE Mind, Body and Soul Event
Want to learn more about social prescribing and how it works? Interested in exploring a range of non-medical support activities? Take a look at the below flyer regards a FREE course organised by the NHS, taking place on Friday November 2nd, 12:00 noon until 4:30 pm at Ipswich Town Conference Centre.
Parenting the Anxious Child - See below for an online Webinar to assist you in understanding your child's anxiety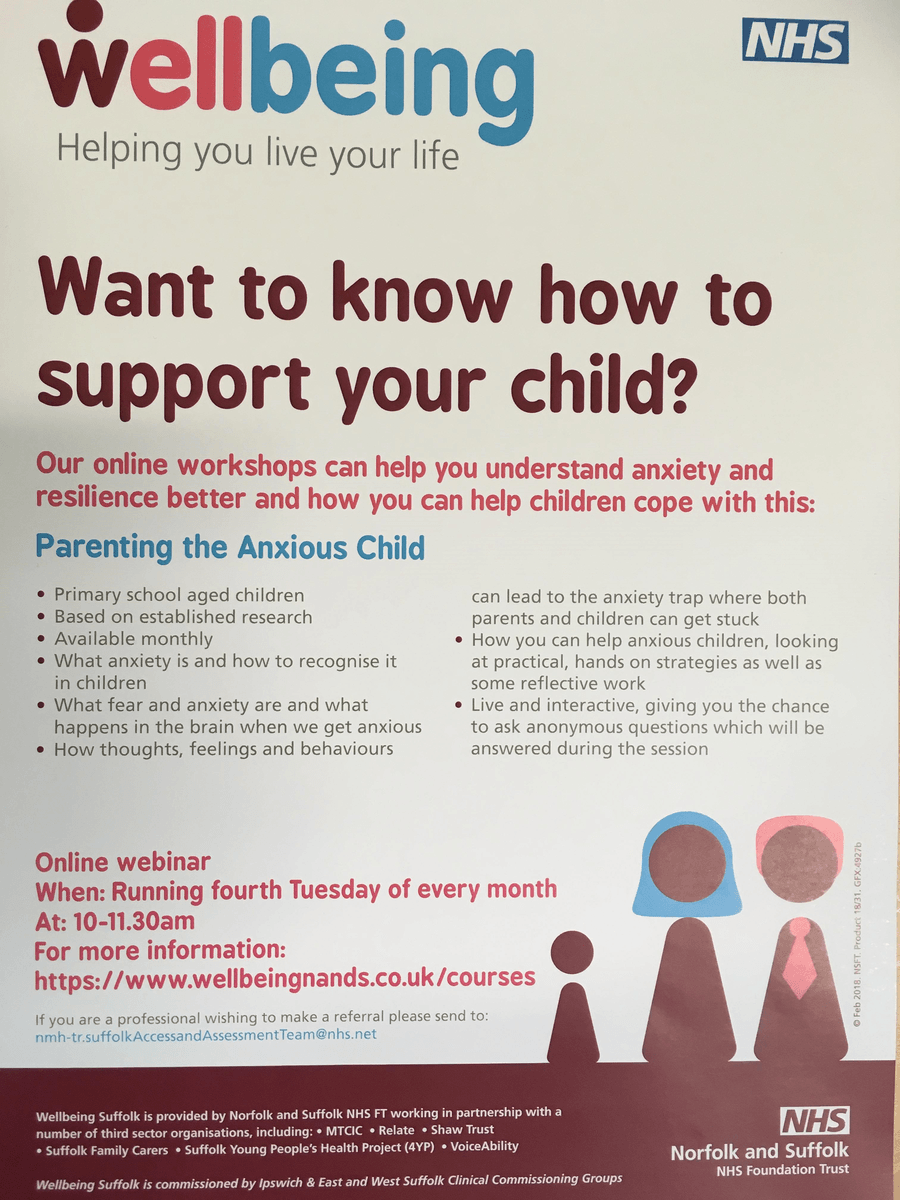 One Life Suffolk - helping local people live healthier lives
We thoroughly recommend this website if you are interested in seeking free advice / information on any of the following;
Losing weight (adults) * Losing weight (children) * How to stop smoking * Free holiday activities clubs for children * Family workouts * Healthy recipe ideas * Free NHS Health checks * Free organised walks around Suffolk ...and lots more!
Please visit this link for further information.
School Nursing Service
Is your child regularly ill? Are you concerned about their attendance? Would you like advice on any of the following?
Dental Health Toileting Emotional issues Healthy Eating Bullying Personal Safety
and many more topics?
You can confidentially text the School Nursing Service on;
07507 333356
and self refer your child.
Please see www.suffolk.gov.uk/schoolnursing for more information.
USEFUL WEBSITES TO HELP YOUR CHILD WITH THEIR LEARNING
Would you like advice on any problem?
At Murrayside Community Centre every Tuesday, between 9:30 - 12:00 pm, there is a drop-in session with Citizens Advice Bureau.
Alternatively you can speak to their advice line on 0300 330 1151.
PEER ON PEER ABUSE
Please see attached information surrounding the peer pressure that can sometimes face our children
LUNCH BOX HELP
Please see attached information to help you select the healthy lunchbox.
Your child's sight is precious.
An undiagnosed vision defect can affect your child's ability to learn.
It is recommended that all children have their eyes checked by an optician before starting school
Every child is entitled to a free eye sight test
Child - Friendly Optometrists in Suffolk are part of the Jolly Giraffe Campaign and display this logo in their window
BOOK an appointment today with your local optician and give your child a clear start in life!
To find your local optician call PALS on 0800 389 6819
email: pals@suffolk.nhs.uk
Key Stage Testing 2017
2017 saw the follow on from the introduction of statutory tests which in turn, saw an increase in what children are supposed to be able to achieve and demonstrate under the Government's drive to raise standards at the ages of 7 and 11 (Years 2 and 6). At Ravenswood we are always keen to give the children the very best education that we can deliver and strive to support and motivate them to achieve at the highest level of which they are capable. We keep up to date with changes and current thinking through research and professional development and have weekly staff meetings to look at ways to improve what we are delivering to all of our pupils. We cannot control what is decided by central government, we can only prepare your children for their high school and life beyond. We seek to give them a thirst for learning, a curiosity about the world in which they live and a flexible, 'have a go' attitude to all of life.We often hear that SATs are 'for the school'. True every school is judged by what is achieved in the tests and progress made by pupils in Years 2 and 6, but at Ravenswood we believe that every child has the right to an all round education that will prepare them for their life experiences and an exciting future, one in which they can shine and be successful. Below are two links to a short video on both Key Stage 1 and Key Stage 2 SATs but if you require any further information about them please just come in and talk to your child's class teachers, they are always here to help.
So what is your role in all of this? Working with parents and carers has a really positive impact on children's learning. It is important that, as far as is possible, your child is listened to when reading, or asking questions like 'do you like the book?' or 'what is happening in the book' can be equally useful throughout your child's school life. Having time for breakfast and getting to school by 8.40a.m is also an important part of how you can support your child in their learning. We can all help each other and, by doing that, achieve the very best for your child, which is what they all deserve.

Staff Vacancies: